There are lots of reasons to create unusual container gardens. For me, part of the reason is to save money. These container gardens are often much less expensive than buying large fancy pots. While the budget is a big incentive, I also find that making unusual pots pushes my creativity and presents a challenge that I love. I'm always on the lookout for cool things to plant. I go to yard sales, second-hand stores and hardware stores to get ideas. I also browse magazines and plant catalogs for inspiration. The following oen is my favorite.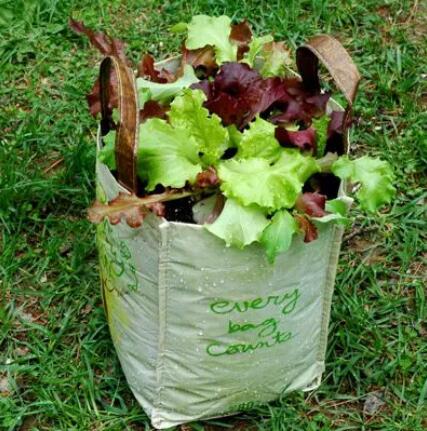 Reusable grocery bags rock as container gardens. Plants LOVE them, they are cheap–often under a few bucks–and they come in many sizes and a huge array of colors and patterns. They couldn't be easier to plant. Make sure you get the kind of bag that is plastic on the outside. Many of them have a fiber lining, and that's fine.
For drainage, I cut several holes in the bottoms of the bags with scissors. I then cover the holes with plastic window screening. You can also use the paper towel or coffee filters. I also cut a few slits about an inch up the sides of the bag, in case the holes in the bottom get clogged.
The only downside of the bags is that they only last a season and if they sit in the hot sun, some can fade by the end of the summer. Also, the handles can weaken in the sun, so may break if you try to pick the bag up by the handles.
During these pandemic dyas, many of us are warning keep social distancing but that cant limit our recreations at our garden. Why not DIY your own grocery bag to plant some lovely flowers? Yes you can make it!!!
PS: If you have any ideas please share with us, let more sparkling light our brains.